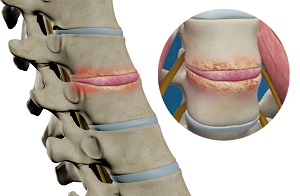 What is a Spinal Infection?
A spinal infection is described as an infection of the spine. It can occur in various locations of the spine i.e., intervertebral disc space, vertebral column, spinal canal, and nearby soft tissues.
Types of Spinal Infection
The different types of spinal infections are classified based on the region of the spinal cord infected, namely:
Vertebral osteomyelitis is recognized as one of the most common forms of vertebral column infection. It can develop from an infection in the surrounding region or one that spreads from another region of the body, or from direct open trauma to the spine.
Intervertebral disc space infections affect the space between adjacent vertebrae and can occur during childhood, in adults or after an operation.
Spinal epidural abscess is a form of spinal canal infection that develops in the space around the tissue lining the spinal cord and nerve root canal.
Subdural abscess is a rare form of spinal infection that develops in the potential space between the membranes that surround the spinal cord.
Intramedullary abscess is an infection that develops within the spinal cord.
Adjacent soft tissue infections are spinal infections of the surrounding tissues.
Causes of Spinal Infections
The causes of spinal infections include a bacterial or fungal source, Staphylococcus aureus, and Escherichia coli being the most common. It may occur as a post-surgery complication. Some of the factors that can increase your risk of developing an infection may include
Intravenous drug abuse
Neonatal complication as in childhood discitis
HIV infection
Long-term use of steroids
Malnutrition
Certain conditions such as diabetes mellitus and cancer
Symptoms of Spinal Infections
Symptoms generally differ depending on the type of infection but can generally be defined by pain localized to the site of infection. You may also experience pain in the back, abdomen or flank. Other symptoms may include:
Wound drainage
Redness
Swelling or tenderness near the infection
Fever
Chills
Muscle spasms
Weight loss
Weaker functioning of the nervous system
Pain or difficulty in urination
Bowel/bladder dysfunction
Paralysis, etc.
Diagnosis of Spinal Infections
Early diagnosis of spinal infection is often considered as the biggest challenge. Diagnosing a spinal infection may take anywhere from 1 month to 6 months, which impedes the timely and effective treatment of the infection.
Your medical history will be reviewed by your doctor and a thorough physical examination will be performed. Further imaging tests may be ordered including X-ray, CAT scans or MRI scans, and lab tests such as blood cultures.
Treatments for Spinal Infections
Treatment may include surgical and non-surgical methods.
Non-surgical treatment can be considered if the infection is mild with minimal or no neurological deficits and when surgery is usually contraindicated for a patient. Non-surgical treatment includes long-term intravenous antifungal or antibiotic therapy. The patients normally undergo antimicrobial therapy for a period of 6 to 8 weeks.
Surgical treatment is an option when there is notable bone involvement, sepsis caused by an abscess unresponsive to antibiotics, neurological deficits, failure of needle biopsy and failure of intravenous antibiotics to prevent infection.
Prognosis of Treatment for Spinal Infection
Spinal infections can be treated with antimicrobials and surgery. You will be monitored throughout your treatment for signs of improvement. However, there is a risk of residual infection or recurrence of the infection.